Rochelle Riley, DDS, MS
Dr. Rochelle Riley grew up in Tucson and graduated from the University of Arizona with both a Bachelor of Science in the field of general biology and a Master of Science in the field of human physiology. She then completed her professional education at the University of Colorado Health Sciences Center in 2006, where she received the degree of Doctor of Dental Surgery.
Having been in the Air Force for over five years, Dr. Riley was the chief of dental services for the 162nd Wing Arizona Air National Guard. She is a certified Invisalign® aligners provider with Align Technology, ClearCorrect and Six Month Smiles® for invisible braces. She has extensive post-graduate education in the surgical placement of implants, endodontics, temporomandibular disorders and sleep breathing disorders. She is a member in good standing with the American Academy of Craniofacial Pain and practices with an emphasis in neuromuscular dentistry. She is also a certified provider for the Chao Pinhole® Technique to help restore receded gums to a more youthful and natural position. She holds a current dental license in both Arizona and Washington state.
Dr. Riley is married with two stepchildren and six fur babies. She enjoys riding motorcycles with her husband, working out, boating and walking her dogs. She loves to serve her country, spend time with her family and travel. She is known for her hard work, dedication, enthusiasm and eye for aesthetics. She is a general dentist with a cosmetic flare!
Maya Denslow, DMD
Dr. Denslow has always enjoyed helping others and ultimately chose dentistry because she wants to help people rediscover their confidence, not only in their smile but also in their lives. She is a passionate and dedicated dentist who graduated from the Oregon Health & Science University School of Dentistry and marked the start of her dental journey with a commitment to excellence and a genuine desire to improve patients' lives. Her ability to connect with patients on a personal level has always been a hallmark of her approach, fostering trust and comfort in the dental chair.
Her enthusiasm for dentistry goes beyond her interactions with her patients; she loves hands-on work and the satisfaction of transforming her patients' smile. Dr. Denslow is skilled in many areas of dentistry, but especially enjoys esthetic crowns, veneers, and bridges. She also possesses a unique passion for extractions and is committed to delivering top-notch treatment options to her patients.
Outside of the office, Dr. Denslow embodies a zest for life that extends to her leisure activities. She is an avid outdoors enthusiast, and finds solace in activities like skiing, which allows her to embrace the beauty of nature. She also enjoys reading and working on various projects that challenge her creativity and problem-solving skills. Above all, she treasures the moments spent with her cherished friends and family.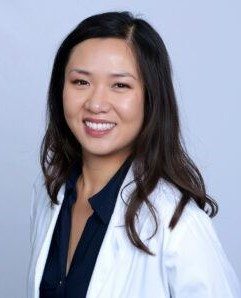 Christina Hayes, DMD, MS
Dr. Hayes is a highly dedicated dentist with a remarkable educational background and a passion for creating beautiful smiles while prioritizing excellent oral health. Her academic journey is a testament to her commitment to patient care and her goal of providing personalized dental care with a warm and friendly touch.
Education:
– Doctor of Dental Medicine (DMD):Western University of Health Sciences
– Master of Science in Medical Sciences:Western University of Health Sciences
– Bachelor of Science in Psychobiology:University of California, Los Angeles
Her favorite part of dentistry is building a bond of trust and familiarity with her patients. She is deeply committed to listening, answering your questions, and providing you with the highest quality of dental care with a personalized touch. Her warm, calming, and friendly approach to dentistry ensures that her patients have a comfortable experience at every visit. Whether it's esthetic composite restorations, oral surgery, or endodontics, Dr. Hayes combines her expertise with the latest dental research and technology to restore oral health and confidence in her patients.
Beyond dentistry, Dr. Hayes is a diverse individual with a love for music, a soft spot for animals, a talent for crocheting, and a passion for outdoor adventures. She enjoys exploring nature with her husband and dog, and her move to the Pacific Northwest promises exciting new experiences amidst its natural beauty.
About Our Team
At Northwest Dental Medicine Enumclaw, your best interest is our only interest. In our commitment to exceptional service, we always treat our patients like family, and when you meet with our staff, you will be treated with the highest level of comfort and care. We are a general dental practice, but we treat each case with a cosmetic flair so that you can leave our office smiling confidently and without inhibition. If you have any questions before coming to our dental office in Enumclaw, Washington, call 360-825-2563 to speak with a member of our team.